Be part of musical history…
by helping

an unsigned folk singer top the charts!



ONLINE album launch on the 22nd November 2012!!
$5000 worth of downloadable bonuses…with EVERY album purchased

(So make sure you come back to this page on launch day!!)
Terri explains all in the video…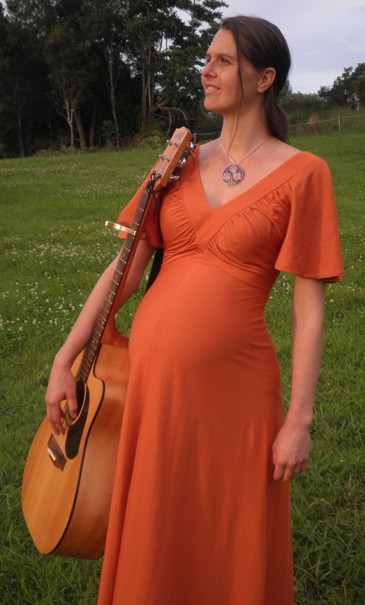 I will be doing a massive online launch of my latest album "Fall Into Feeling"…
and you get to benefit in a big way! read on…
(from recent media release)
Local singer/songwriter Terri Nicholson aims to top the Amazon Folk Music Charts!
Local singer/songwriter and health practitioner Terri Nicholson (and daughter of well-known rainforest experts Nan and Hugh Nicholson) is planning to make some musical history on the 22nd November.
Terri, from The Channon in the Byron hinterland, says,
"I aim to prove, that as an independent, unsigned singer/songwriter and a stay/work at home mum (pregnant with my 3rd baby), that I can indeed share my music at a level of international success and support my family without needing to do a million gigs, be signed up with a record label, or give up on spending crucial time with my young kidlets".
Her aim is to hit #1 on the Amazon international folk music charts on the day of her online album launch!
Sound like a long shot!?
Well, she is following a thoroughly planned and proven strategy, based on cutting edge internet marketing techniques, together with social networks and good old word-of-mouth.
"I feel up for the challenge; both of stretching out of my own comfort zone and sharing my voice, and also to challenge the mighty music industry where only those from massive recording labels ever get heard or make a living from their song-writing".
Here is the plan:
She will do an online launch of her latest existing album "Fall into Feeling". The idea is that about 1000 people buy her album all on the same day. As sales will be through Amazon.com, the sales recorded will rocket the album up the international music folk charts… the plan is…all the way to no. 1!!
And what's super cool is that she has approached some awesome people and businesses who have each given a downloadable free gift (to the total value of about $5000!) ranging from some of the world's leading success and business experts, as well as brilliant environmental, health, parenting, and musical resources and products.
So, for anyone who buys an album on launch day, they will not only get her beautiful hard-copy album sent to them but they can download ALL of these $5000 worth of bonuses for a measly $20.
Pretty cool hey!?
To top it off she will be giving a full 15% of proceeds to rainforest regeneration projects in The Channon area of NSW.
What she needs from us in her community is to help spread the word, and of course buy her album on the day!
"My aim is for 100,000 people to hear about it via email/Facebook (or even the old word-of-mouth) on launch day. So far, I have been networking with the people giving the bonuses, and it'll be going out to about 80,000. The rest will be through friends or fans telling their friends".
Terri says she is loving the feeling of crafting a launch that is not only about her and her album but also about helping others, through the bonuses, to be seen and heard with what they have to share with the world. And of course those who buy the album get an awesomely wonderful deal!
She describes her music as primarily acoustic folk, with a South American influence due to her years spent working with herbalists in Bolivia and Chile. Engineered by Patty Bom of Sista Funk Studios, and with invited guest musicians George Urbaszek, Julie Wattus, Melissa Herman, Bridget Crouch and Jamie Uren, it's a real treat.
"It's an opportunity to help be part of making history and share in an inspiring vision…and it's just before Christmas, so even if you've already got my album, it's a great prezzie, and the bonuses make it worth it regardless!"
"I am so keen to share my music, make a difference in the world with it, and also support my family in the process", she says.
It is exciting that independent musicians no longer need to wait to be 'discovered', but can take the reins and get their music out there themselves.
To be part of this, all you need to do is go to www.TerriNicholsonMusic.com on the day of the 22nd November.
Remember, the bonuses are only happening on launch day.
Or you can stay in the loop by pressing 'like' on her facebook page www.facebook.com/terrinicholsonmusic or joining her mailing list.